Graffiti Admin

| April 10th, 2010 | Uncategorized | Comments Off

on Canada's Hockey Team
JON REED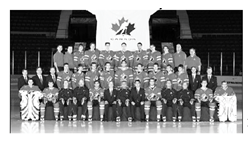 Shock. Embarrassment. Disappointment. This is what all Canadians felt from the mountains of Vancouver to the fish harbors of Newfoundland after the 2006 Winter Games in Turin, Italy. Canada finished in seventh place and Canadians, along with the rest of the hockey world, were shocked. We expected to win gold medal but instead ended up without a medal at all. We were ranked seventh in the world at the game that Canada, and Canadians, loved. After the games, there was only one thing on Canadians', and the players' minds: Vancouver 2010. Vancouver represented redemption: for a tournament that wouldn't be forgotten. Vancouver represented a second chance: a second chance to win gold. This time, however, it was different. This time, the games are at home in front of the home crowd. Things are going to go differently this time. Team Canada, this year, is a powerhouse team. We have the best goalies to ever play the game, some of the most talented forwards of all time, and a blue line that would even have intimidated the Broad Street Bullies. With a team like this, one thing is perfectly clear: this year is our year. Everyone said the same thing in Turin, but so they should. Hockey is Canada's game. The embarrassment in Turin raised lots of questions. The majority of the criticism was directed at the coaching staff and the general manager. Pat Quinn, who has had years of experience coaching, got a lot of blame but the fault shouldn't lie on Quinn, or even that of general manager, Wayne Gretzky. You see, four years earlier in Salt Lake City the coach and GM were the same, and Canada came out with the gold medal. Gretzky put together a strong team, Quinn had done a fine job behind the bench, and the players produced. Yet almost the same thing happened in Turin. Gretzky put together an equally strong team and Pat Quinn had done his job behind the bench. The difference this time was that the players did not produce, and the outcome was disgraceful. However, this year it is a whole new ball game (or hockey game). The new GM is Steve Yzerman, who is receiving his first Olympic gig as GM. Behind the bench there is also nothing to worry about: Mike Babcock will be the bench boss this year and has shown that he can win by having his Detroit Red Wings be in the Stanley Cup finals for the past two years in a row. Team Canada will have the same starting goalie that they had in Turin; Martin Brodeur. He is the best goalie to ever play the game and will hopefully be able to be strong between the pipes. But no matter how remarkable Brodeur can be, it is also known that he is only human, and so backing him up is Robert Luongo.
Next are Canada's forwards. Canada is going to have some of the best players in the league, like Crosby, Nash, and Iginla. Yzerman must have had a hard time picking twelve forwards when there are so many amazingly talented Canadians. I'm sure that everyone on the team deserves to be there, but there are some other players who didn't make it that maybe should have including Vincent Lecavalier and Martin St. Louis of the Tampa Bay Lightning. Both of them were on the team in Turin but were passed up this time for Vancouver. They both play together in Tampa and have good chemistry, and could have added to Canada's team.
Finally there are the blue liners. There really are no holes in Team Canada's defense but again there are two other players that perhaps should have been picked. First is Jay Bouwmeester. He was on the team in Turin and constantly shows that he is a spectacular defenseman. With a 15 goal and 27 assist 2007-2008 season with the Panthers he showed that not only can he block shots, he can put the puck in the net too. Second and most important of all who may have deserved to be on the Team Canada roster the most is Washington Capitals Mike Green. He also had an amazing 2008-09 season, registering 31 goals and 42 assists. While Bouwmeester was questionable for Team Canada it is believed that Green is a true asset that should have made the roster. It looks like Yzerman is putting together a more physical blue line than a scoring one.
Until we see Team Canada in action everyone will wonder if Yzerman has made the right decisions, but one thing is for sure; Canadians will have nothing but gold medal on their minds for their beloved Team Canada hockey team.