Graffiti Admin

| April 10th, 2010 | Uncategorized | Comments Off

on NT Winter Season at a Glance
BOYS' HOCKEY
CAM WATT
The boy's varsity hockey team had an exciting year. The team made it as far as the quarter finals, but were defeated by rivals Lawrence Park in a 4-2 game. This season was particularly special, because it was the last for our beloved Mr. Selby. Mr. Selby has coached at North Toronto for over thirty years. Mr. Selby was one of my favorite hockey coaches. He will surely be remembered for his calm and positive figure. Several senior players will not be returning to NT next year, but I'm sure will have an impact wherever they play next. We almost made it boys; all I can say is just wait until next year!
CURLING
JON REED
Many people are actually shocked to here that North Toronto even has a curling team, but we do. In fact they, are in the playoffs at the beginning of March, and are looking quite strong. Most of the players are new to the great Canadian game, but are being taught well by team coach Mr. Zohar. Ben Papageorge who is curling for his first time says, "Zohar is a great coach, and because of him curling is almost as good as hockey." For someone in Canada to say that curling is almost as good as hockey is really saying something. One can see that Mr. Zohar is really showing the kids on the team a new great sport and talent. When asked who the MVP on the team Ben said, "In curling there is no MVP. It's about a team effort." Ben couldn't have said it any better. That's what curling is about. Working as a team, discussing the next shot and helping each other out. Hopefully the curling team will get some inspiration from the fine job by Canadian curlers in Vancouver and can bring some more curling spirit to North Toronto!
GIRLS'
VOLLEYBALL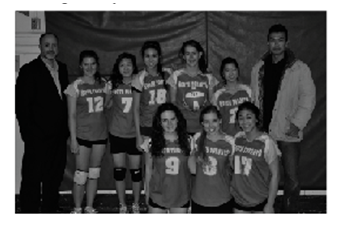 SAM KELLERMAN
It was a nail biting season for the senior girl's volleyball team. We finished our regular season with 4 wins, and 2 losses. We managed to beat our neighborhood rivals down the street as part of the regular season, in an intense 3 set game. We made it into the quarter finals against Oakwood C.I. and unfortunately lost in a third set. We also had a full day tournament at Monarch Park, where we were probably the only team to studying be during our breaks! Congrats to all the girls for a fun season, full of games and early morning practices and thanks to coaches Mr. Gorenkoff and Chu, for their dedication to the team.
SWIM TEAM
GILLIAN MCCORD
It was a close call for the swimmers of NT last year when the TDSB threatened to close down our pool. Luckily, however, the decision was overruled and our swim team had one last year to show off their talents in NT's old pool, and show off did they ever. The team of about seventy students was coached by Ms. Chamberlain, Ms. Chisholm, and PJ who did an amazing job motivating the athletes through early morning practices and cheering them on during late-night swim meets. Sr. swimmer Toby Sirek, and Jr. Ryan Sheridan were the captains of the boys teams, and Krista Nordin and Kim Chau lead the girls. As the swim team is one of NT's largest teams, they also brought home one of the largest victories. About a third of the team made it to the city championships, and another eight moved on to compete at OFSAA. Congratulations to everyone on the team, especially the amazing coaches!