Graffiti Admin

| April 10th, 2010 | Uncategorized | Comments Off

on Valentine's Day
JENNY PENG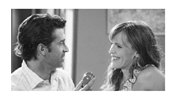 First there was "Love Actually". Then came "He's Just Not That Into You". And now, from the writers of the latter comes another movie with a colossal cast and a perplexed plot, "Valentine's Day".
The film is set in Los Angeles on February 14th, and it depicts the many ways that couples throughout the city celebrate the day of love. Ashton Kutcher stars as florist Reed Bennett, who decides to propose to his fiancé, Morley (Jessica Alba), but is devastated when she eventually leaves him because she cannot bring herself to the commitment. At the same time, Reed's best friend, a school teacher named Julia (Jennifer Garner), is helplessly in love with a cardiologist (Patrick Dempsey), who, unbeknownst to her, is actually married. Julia finds out about her lying boyfriend through Reed, who coincidentally meets the cardiologist while selling him two, not one, dozen roses. Throughout the movie, a TV sports reporter, Kelvin (Jaime Foxx), is forced to interview couples about their perspectives towards Valentine's Day, although he shows an obvious contempt for the occasion. Ironically, on that same day, he ends up falling for a publicist, Kara (Jessica Biel), who is equally hateful towards the day of love. Kara is a publicist for Sean Jackson (Eric Dane), a closeted gay football player dealing with a career crisis. Jackson's partner, Holden (Brad Cooper), a man who seems to be indifferent towards intimate relationships, meets a US army captain, Kate (Julia Roberts), on a plane ride back to Los Angeles, where they discuss the concept of love itself. Kate is the mother of a lovesick little boy, who, as it turns out, is in love with Julia (Jennifer Garner). Throughout the movie, all the characters have to face and combat relationship problems on what is believed to be the most romantic occasion. As confusing as the plot may seem because of the tangled mess of interconnected storylines, all the characters are, in a way, impacted by Reed's flower shop, as they head to the store to buy last minute flowers and cards. The majority of them are interviewed by the sports reporter, Kelvin, a character who connects the separate lives of all the couples into one news story.
As the movie with the biggest cast, "Valentine's Day" stars nineteen well-known actors and actresses, including both McDreamy and McSteamy (Patrick Dempsey and Eric Dane, who both star in "Grey's Anatomy"), two Taylors (Taylor Swift and Taylor Lautner), and four Oscar winners, Kathy Bates, Jamie Foxx, Shirley MacLaine, and Julia Roberts. However, like any rom-com that squeezes countless subplots into one storyline, the movie confuses the audience as it becomes difficult to track the lives of at least ten couples who all connected in some way to a small flower shop. In addition, since the majority of the cast is composed of big-name celebrities, it often becomes difficult for the audience to envision the character as opposed to the actor. The screenwriter's idea of having various couples express their different opinions towards love is brilliant, yet the plot of the movie itself is extremely unrealistic because almost all the characters, including the ones who are only physically attracted towards each other, manage to find "true love" with their partner by the end of the 125 minutes. As portrayed in "Valentine's Day", everybody finds love, and couples always overcome difficult times, which, obviously, is not the case in reality. The movie does offer some good laughs, in the sense that there are many witty jokes and physical injuries, but after a few minutes, the humor dries up as the characters' mishaps get dull and repetitive. All in all, Valentine's Day is a movie that's sinking in a sea of sophisticated subplots. And when you're drowning like that, not even nineteen actors can save you.