Just keep learning: The secret to student success outside the classroom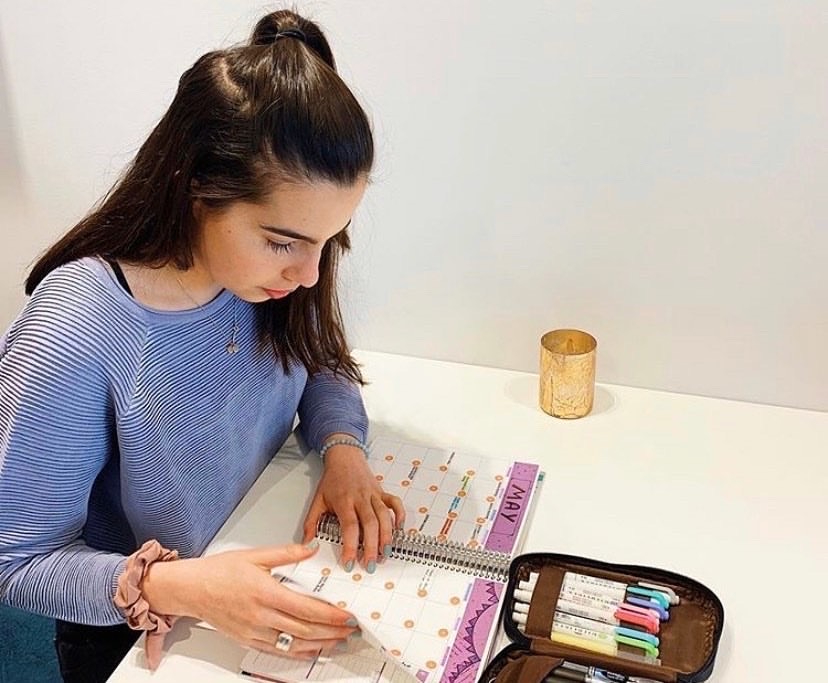 Sara Chiarotto O'Brien
Editor in Chief
As Ontario students enter their third week of school shutdowns, the novelty of endless freetime is beginning to wear off, replaced by concerns surrounding graduation, extracurriculars, and keeping up with academics. As of Saturday 28 March, the provincial government had not released a plan for home-education while schools remain closed. While a supplementary resource platform has been released, there are no clear guidelines for students or teachers outlining how they should approach education in the week before Monday 6 April, when online classes are set to launch.
After listening to student concerns, Graffiti sat down with Vanessa Vakharia, CEO of the Math Guru, to discuss some strategies students can use to stay organized, stay learning, and stay healthy. 
After moving all Math Guru tutoring sessions online, Vakharia realized that one of the biggest challenges her students are currently facing is stress. "This is a time that feels so out of control to so many people, and as a result we start feeling anxious." 
The triggers for anxious thoughts range from fears over university admissions, to worries about the health of family members and the quality of students' social life. 
After hosting an Instagram livestream about mental wellbeing with a psychologist last week, Vakharia has learned that "part of that anxiety is a lack of structure." If students are to be successful at home, both emotionally and academically, learning to manage feelings of stress and anxiety is essential.
Vakharia's first piece of advice is to "let yourself feel what you're feeling." Acknowledge that "nobody has gone through school in a pandemic before," and feelings of uncertainty or worry are valid. However, she warns against allowing these feelings to paralyze you. Instead of worrying over problems out of one person's control, Vakharia advises students to "write down  everything [they're] anxious about,… circle everything that is in your control… and then focus  your energy on the things that make you anxious and are in your control to develop a plan."
 From an academic standpoint, planning for success includes a balance of organization, motivation, and most importantly, structure. "Human beings feel better with structure," says Vakharia. If you're one of those students who has allowed bedtimes to slip into the early hours of the morning and the day to start at noon, Vakharia recommends getting back on a sleep schedule and setting up your day to "mimic the structure of a school day," with two work periods separated by a lunch break in between. 
Vakharia adds that it's okay to "give yourself an extra hour and start working at ten, but don't start working at noon." While there may be no mandatory school work right now, she says it is important to avoid summer break amnesia and continue to review content, even if you don't feel prepared to to teach yourself new content on your own. 
"If you're struggling with what to learn, just go back over stuff," using old tests and homework as a guide. Additionally, it can be helpful to break up your morning and afternoon periods into four half hour chunks each, and treat each chunk like a different class in order to cover a variety of material. To avoid burnout, Vakharia has also had students schedule "electives" for themselves: an hour after lunch or during a work period where they spend time doing an activity of personal interest, such as learning guitar, painting, or working out. 
Sticking to a system like this may be easier said than done. The allure of Instagram and Netflix is harder for some students to resist than others. For students who are worried about finding motivation and staying on task, Vakharia recommends finding an "accountability partner," who you can talk to at the beginning of the day or the week to establish goals with, and then check in on each other later to help meet those goals. Knowing that someone else is expecting you to keep your word is a powerful motivator for many people, and something that often helps Vakharia's students.
Even with the proper motivation, the issue of understanding material can still pose a challenge when teachers are not around to explain concepts and answer questions. Luckily the age of the internet means that finding a good explanation for a concept can easily be done through a Google search. Additionally, Vakharia reminds students that friends are an excellent resource. "This is a really good time to reach out to friends…[because] you're all stuck at home anyways!" Students can even start digital study groups to help eachother out and maximize the learning they can do at home.
It is undeniable that self-quarantining and physical distancing in the name of slowing the COVID-19 pandemic will take a toll on students' education and mental health; however, by keeping focused on day-to-day life, these challenges can be managed and may even lead to positive outcomes. 
"This is a time for students to start remembering that learning is actually fun," remarks Vikharia. Without the pressure of marks and tests, she anticipates some students discovering newfound interests in subjects like math and science, whose interesting elements are often overshadowed by time pressures and an emphasis on grades. "If there's something you always thought was cool but never had time to learn, now you do."
No matter how you choose to organize your time,Vakharia emphasizes that the most important thing is to "keep yourself learning and doing something."
Please note: the advice in this article regarding anxiety is not intended for students with pre-existing mental health conditions. If you find yourself unable to manage stress or other negative emotions, professional help is available, even as most offices remain closed. Please see below for resources:
Kids Help Phone: 1-800-668-6868.
Skylark virtual drop-in counselling: https://www.skylarkyouth.org/what-we-do/programs-counselling-services/walk-in-clinics/
Vanessa Vakharia is the founder and director of The Math Guru, a super cool boutique math & science tutoring studio in Toronto. She is the host of a new podcast called Math Therapy where she helps guests work through their math trauma, one problem at a time! Her #goals are to be Lady-Gaga-famous and to totally change math culture so that STEM is finally as cool and accessible as basically every single Taylor Swift song ever. She failed Grade 11 math twice, which was the best thing that ever happened to her. Sidenote but totally relevant: Vanessa is a founding member of Toronto indie-rock band Goodnight, Sunrise. Mindy Kaling is her idol and Vanessabelieves that she should be yours too.  Connect withVanessa: @themathguru or vanessa@themathguru.ca