More than an Ego: Why Antonio Brown has turned into the NFL's Drama Queen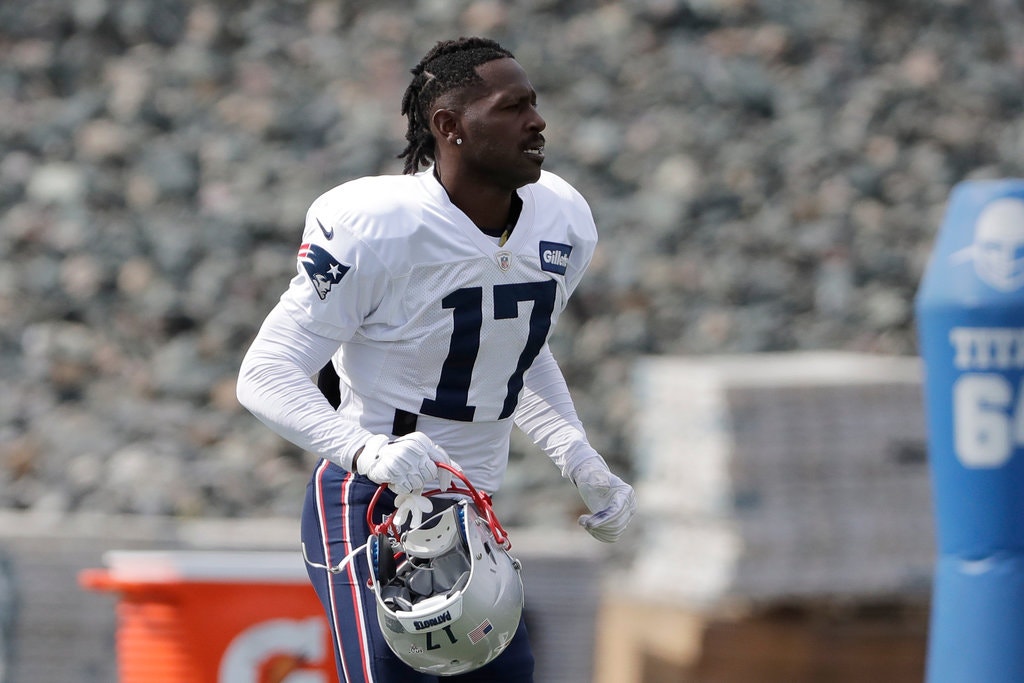 Photo by Steven Senne / Associated Press
Antonio Brown, otherwise known as "AB," is a National Football League (NFL) wide receiver who, in recent months and throughout the past, has been involved in various dramas and scandals.
While many focus on his actions, they tend to overlook what is causing Antonio Brown's poor behaviour. Is it simply his fame and ego?
On March 10, 2019, following a season of countless locker room disputes and repeated negative behaviour, including poor sportsmanship and fights with teammates, the Pittsburgh Steelers traded Brown to the Oakland Raiders on a $30 million dollar contract. Following his trade, conflict arose in August when Brown filed a grievance against the NFL due to their new policy of forcing players to wear a newly designed helmet. This motion came from Brown's claim that it "interfered" with his vision. For two weeks, Brown held out from training camp in protest of the NFL's new helmet policy. While protesting, Brown threatened to retire from football if his helmet demands were not met.
After these two weeks, Brown returned to his regularly scheduled practices, forcing the Oakland Raiders to fine him a total of $54 000. Brown was enraged by these fines, sparking a heated verbal dispute with Raiders GM Mike Mayock. Despite the drama, Raiders Head Coach Jon Gruden still planned for Brown to play in the Oakland home opener. However, on September 7, a day after his return, Brown asked via instagram to be released from the team, resulting in additional fine of over $215 000 for "conduct detrimental to the team."
Fresh on the market, and with his $30 million dollar contract voided, the New England Patriots signed Brown to a one-year, $15 million contract, much to the surprise of fans and other NFL teams.
Further worsening Brown's case, on September 10, allegations were made against Brown by his former trainer, Britney Taylor, of sexual assault and rape. Not even in the span of a week after the incident, a second woman stepped forward alleging that Brown engaged in sexual misconduct. Following the allegations, Brown played one game with the Patriots before being released after 11 days of his signing, voiding yet another contract.
Brown's recent behaviour is undoubtedly reckless and unacceptable. After becoming the center of controversy in the NFL, fans are left wondering what caused this talented receiver to go so far off the rails.
On January 10, 2016, the Pittsburgh Steelers faced the Cincinnati Bengals in the Wild Card round of the NFL playoffs. In the last 20 seconds of the game, Brown received a knockout head injury in a helmet-to-helmet hit with Bengals defender Vontez Burfict. Burfict was fined $112 000 by the league for the illegal helmet-to-helmet hit.
However, the consequences are more than monetary, as this collision left  irreversible neurological impacts. Many NFL fans and medical professionals believe that, after this hit, Antonio Brown acquired a serious brain disease, frequently found in NFL players called chronic traumatic encephalopathy (CTE).
CTE is a disease that impacts the brain and is caused by repeated head injuries. Signs of CTE include aggressive and impulsive behaviour, poor judgement, cognitive changes, depression, and many other impairments. The signs and symptoms are often not noticeable until a few years after they develop. Since Dr. Omalu discovered how CTE affects football players, the disease has been a serious concern among the entire NFL, with many players showing signs of severe CTE.
With no treatment available for this disease, and no way to confirm if one has it before death, NFL players experiencing repeated concussions are retiring from the league earlier than usual in attempts to avoid possible advancements of the disease. In fact, over 4 500 former NFL players have filed lawsuits against the NFL for concussion related injuries, including CTE.
A notable NFL player who had one of the most severe cases of CTE was former Patriots wide receiver Aaron Hernandez. He was an incredibly talented receiver, much like Antonio Brown, but after repeated blows to the head, he developed CTE. It increased his hostility and aggressiveness, and impaired his decision making. This caused him to murder civilian Odin Lloyd after a fight at a bar in 2013. While in jail, Hernandez commited suicide. During his autopsy, doctors found he had a severe case of CTE.
Although CTE does not condone the poor decisions that Brown or anyone else makes, the NFL must take serious precautions in order to ensure the safety of its players. While his ego and fame may be part of the reason for many of Brown's recent actions, the case of CTE seems to be playing a big role as well.
For now, Antonio Brown remains unsigned but hopes to get back on an NFL team. He has filed yet another grievance against the league for $40 million in lost contracts. Looking back on the timeline of events, it is ironic to notice the initial cause of the scandals was the helmet designed to protect Brown from the injuries that are now feeding into these controversies. Time will determine if Brown will ever get to play in the NFL again, but, for now, proper health and well-being for Brown and all other NFL players must come first.