Review: Girl From the North Country gorgeously blends the talents of two impeccable artists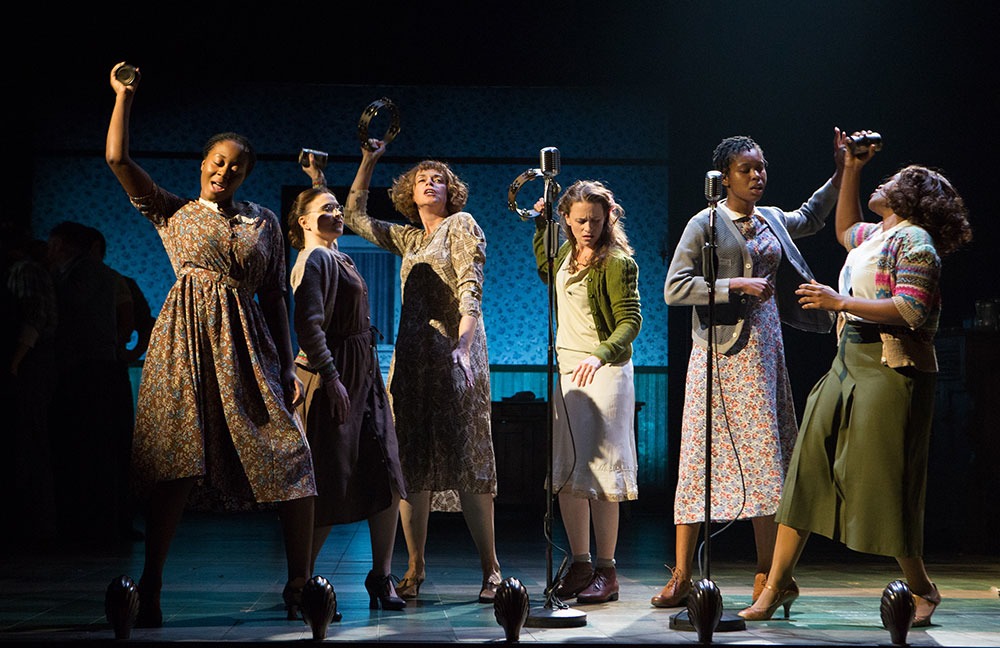 Photo Coutersy of Mirvish Productions
Starring: Katie Brayben, Donald Sage Mackay, Gloria Obianyo
Director: Conor McPherson
Music and Lyrics: Bob Dylan
Book: Conor McPherson
Venue: Royal Alexandra Theatre
Run Information: Girl From the North Country is currently running through November 24, 2019.


Rating: ★★★★★
Is it a musical? A play? A play with music? Girl From the North Country, Conor McPherson's gorgeous new work that weaves Bob Dylan's timeless songs with a depression-era story, defies categorization. But whatever it is, the cathartic, immutable warmth that radiates from the Royal Alexandra Theatre is something beautiful.
This is not a biographical jukebox musical by any means, where dozens of greatest hits are shoe-horned into a formulaic plot that details the rise of an artist to stardom. In fact, it has nothing to do with Dylan at all. McPherson juxtaposes twenty-one of Dylan's songs with a story about a group of individuals living in a boarding house in Duluth, Minnesota at the height of the Great Depression. Nick Laine (Donald Sage Mackay) is struggling to keep the business afloat while dealing with Elizabeth (Katie Brayben), his wife who has early-onset dementia, and Gene (Colin Bates), his jobless and alcoholic son. Marianne (Gloria Obianyo), their adopted black daughter, is also carrying a baby that no one can account for. Nick's only comfort comes from Mrs. Nielson (Rachel John), a widowed guest at the house and Nick's not-so-secret lover. Also living under the roof are the Burkes (David Ganly and Anna-Jane Casey), a once well-off couple who have since fallen from the upper class and must take care of their developmentally challenged son, Elias (Steffan Harri). Set over the course of one Thanksgiving weekend in 1934, the lives of these characters begin to unravel following the arrival of two guests: the bible-selling Reverend Marlowe (Finbar Lynch) and a black boxer named Joe Scott (Shaq Taylor).
Without Dylan's intoxicating hymns, the piece could stand alone as a compelling drama that explores the social and racial tensions of post-War America. McPherson's layered script shares many qualities with those of the great American playwrights of the twentieth century; the depth of characterization and the searing dialogue could very well have come from Eugene O'Neill's pen.
But when the characters sing and let Dylan's potent lyrics float to the rafters, magic is created. Most of the songs, arranged exquisitely by Simon Hale, do not propel the plot forward, reveal character, or connect to the story in a literal way, like in a traditional musical. Rather, McPherson draws out the metaphorical connections between the dialogue and the songs. When Brayben's Elizabeth steps up to an old-time microphone and belts out "Like a Rolling Stone," Brayben seems to step out of character and sing to Elizabeth, asking her, "How does it feel? To be on your own." Or when Casey sings "Sweetheart Like You," while playing the drums, she appears to be giving a sharp rebuke to her character of Mrs. Burke, lamenting "What's a sweetheart like you, doing in a dump like this?" This uncanny structure is not only daring but brings new meaning to Dylan's universal lyrics and pushes the story to a darker and more haunting realm. As McPherson puts it, there is "a conversation between the songs and the story."
Brayben's Elizabeth, the main character in this large ensemble cast, is in a somewhat hypnotized, trance-like state, stuck between her melancholic reality and another world. When she sings, one can hear the emotional baggage that Elizabeth carries. Obianyo is also compelling as Marianne, Nick and Elizabeth's adopted daughter who has almost lost hope after her father tries to marry her off to Mr. Perry (Sidney Kean). She gives a subtle performance, although there are some enunciation problems when she sings.
McPherson, who also directs, masterfully stages the piece with precision. He artfully balances softer moments between characters with larger choreographed numbers, such as the bombastic "Duquesne Whistle," sung by Harri. McPherson's ensemble cast of nineteen inhabits a simple, abstract set (designed by Rae Smith) that seems to — as is described in "True Love Tends to Forget" — "drift into infinity." Flat pieces of scenery, with black and white projections, deftly mark each location. Accompanying this is Mark Henderson's understated lighting design, which sometimes is unfocused and makes it difficult to distinguish between which character is speaking.
But you don't come out of
Girl From the North Country
thinking about the lighting design. You come out of it marvelling at its utter beauty, a languid kind that can only be created by the marriage of talents by two incredible artists. It's a piece that continues to reveal itself long after the last downbeat has disappeared. Perhaps that is the mark of art of the highest order.